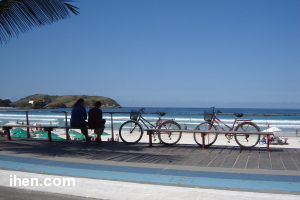 The apartment is located in the best region of Cabo Frio city, two blocks from the Forte's Beach (Praia do Forte).
It is close to barbecue and seafood restaurants, pizzerias, bars, bakeries, drugstores, market, shopping center, hand makers fair, Cultural Centre, ice-cream stores, Catholic and Evangelic Churches, etc.
The apartment is completely furnished and has a useful area of 50m ², two bedrooms, two bathrooms (one of bedrooms is a suite), a living room, and a complete kitchen ready for using, every rooms have fans and televisions. The apartment is naturally well ventilated and lighted.
It has garage, lift, doorkeeper full day, intercom and a public phone in the entrance hall.
There are Courses of Surf and Dive in the beach.
It is near to the beaches: Praia das Conchas, Praia do Peró, Praia Brava, etc.
Cabo Frio is located in the Região dos Lagos (Lakes Region) 160 km of Rio de Janeiro city (2 hours by car), 25 km of Búzios (15 minutes) and 15 km of Arraial do Cabo (10 minutes). All of theses cities are tourist places with beautiful beaches.
Cabo Frio has an airport that receives flights from Rio de Janeiro, Argentina and Chile.

CLICK HERE FOR FULL LISTING